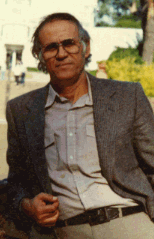 Manor Shadian was born in Iran, on December 25th 1931. From his childhood he always wanted to paint. As a young boy of 11 or 12 he began to paint Persian miniatures, using only one or two hairs of a paintbrush. When he was a young man, he studied art at the Israel Art Academy. After that, he taught art to both adults and children. Later, coming to New York, he enrolled in the New York Art Student League to expand his knowledge in the field of sculpture.
He is a versatile artist that can work in multiple media; watercolors, oil, mixed media and many other art forms. Manor has visited many countries in Europe and the Middle East. His expertise expanded as he was inspired by the Impressionists, Expressionists, Post- expressionists and Surrealists of the 20th century. In many of his earlier works this inspiration has been expressed.
Over the past fifty years he has evolved into a master artist. Today his style is uniquely his own, his inspiration from within his spirit, soul, and imagination. His Middle Eastern background radiates through his paintings of the beautiful and sensuous, oriental women. There are powerful, contemporary examples of his American lifestyle; modern portrayals of guitarists, singers and musicians. Enjoy the lively and vibrant colors of his dancers, share in the joy of the subjects. Each work of art is a personal insight into the heart of this emotional and sensitive person. He is a multi-faceted, talented and prolific artist.
His art has sold internationally, and is in many private collections worldwide. He has won prizes for his work in the past. Today Manor lives on the beautiful island of Maui, in Hawaii.